PLEASE HELP TODAY!
Massachusetts Humane Society's homeless animals NEED donations from generous people like YOU. To help pay for the Rent, Food, Veterinarian Medical Costs and Utilities (Electric, Gas-Heating). To continue in saving, rescuing and caring for more animals in need.
The MHS animals count on YOU!! Thank You For Your Support !
---
Pennies 4 the Cause of Paws!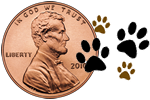 Please – consider collecting pennies for our dogs and cats and other animals. A penny drive at your school, office, neighborhood or local church can help us support our efforts to save and care for more dogs and cats. Pennies add up – you can make arrangements to drop off the bag of pennies with one of our volunteers or you can cash the pennies in. Contact us: masshumane@aol.com or call 781-335-1300 and leave a message.
Thank You!
---
The Giving Assistant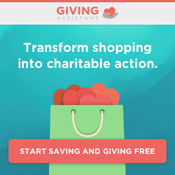 Use Giving Assistant free to support Massachusetts Humane Society Inc. while you shop, find out more.
---
MHS Mini Yard Sales!
Yard Sales Are Being Planned!
For more information on any of our events or fundraisers:
Call 1-781-335-1300 or Email: fundraising@masshumane.org
Thank You So Much For Your Support!