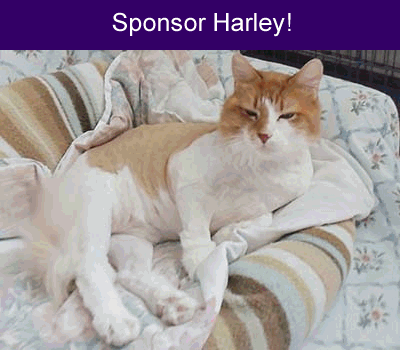 Harley's Sponsors
Sponsors Needed for Harley!
Harley is about 16 years old, neutered male DLH orange and white cat that was given up because the former owners had a baby. When Harley came to the shelter he had a little "catattitude" and was passed over, for adoptable cats. Harley got very comfortable at Mass Humane Society shelter/sanctuary and all of the volunteers. Harley loves loves under his chin scratched – so he gets that daily enjoyment everyday. Harley is free roaming and gets all the love and attention and his favorite foods everyday. Harley become a " MHS Resident"
Harley has a "Patella" problem in his back knee/leg, so he is now on Gabapentin medicine daily for his Patella, joints and arthritis. He is doing so well on the Gabapentin Medicine, walking and moving around so much better, even jumping up.
Harley's Gabapentin Medicine is $40.00 per month supply. Please, if you can sponsor Harley so he gets his medicine daily — Please do ! 
If your interested in helping Harley, please contact us – email: masshumane@aol.com.
You will receive a personalized picture of Harley. Proudly, your name and year – will be listed on this page, under his picture as a proud sponsorship.
---
Seniors for Seniors Adoption Program
Seniors often live on a fixed income. Yet, seniors, 60 years of age or older, may still want to adopt a pet. In fact, medical professionals often speak of the health benefits of a companion pet for an older individual.
If a senior would like to adopt one of the shelter's mature cats/dogs (9 years or older), the MHS will WAIVE the normal adoption fee of $125 – $225. Participants must be 60 years of age or older. The adopted pet will be spayed, neutered and receive all vaccinations for $100 – $300 (The cost of these services – subject to change).
After the new pet is taken home, a cat or dog volunteer from MHS will call the senior to ensure that ALL IS WELL and to answer any questions or concerns they might have.
If for any reason, such as a long-term hospital stay or nursing home confinement, the individual become unable to take care of their cat or dog, they can contact the Massachusetts Humane Society to make arrangements to have the animal returned to the MHS shelter. If the hospital stay is short, and it is determined that the individual will physically be able to continue being their pet's caregiver, the shelter will return the animal to the senior.
MHS Adoption POLICY: Massachusetts Humane Society DOES NOT DECLAW CATS. However, the available cats that are up for adoption may ALREADY be DECLAWED from their previous owner.
YOUR LOVABLE MATURE COMPANION IS WAITING FOR YOU!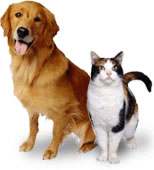 10 Health Reasons Why Pets Are Great For Seniors
1. Pets Lower Blood Pressure, a study of health patients showed that people over 40 who own pets had lower blood pressure than people who did not have pets. Another study showed that talking to pets decreases blood pressure.

2. Fewer Trips to the Doctor. Seniors who own dogs go to the doctor less than those who do not. In a study of 1,000 Medicare patients, even the most highly stressed dog owners in the study had 21 percent fewer physician's contacts than non-dog owners.

3. Less Depression .Studies show that seniors with pets do not become depressed as often as those without pets.

4. Easier to Make Friends. Seniors with pets meet more people and like to talk about their pets.

5. Seniors Become More Active. Seniors with pets go for more walks and are generally more active than those without pets.

6. Pets are Friends. Most everyone, but especially seniors, will say that pets are their friends.

7. Pets Ease Loss. Older people who suffer the loss of a spouse and own a pet are less likely to experience deterioration in health following that stressful event.

8. Pets Fight Loneliness. You are less likely to be lonely with a canine or feline friend around.

9. Taking Better Care of Themselves. Seniors take good care of their pets and better care of themselves when they own a pet.

10. Sense of Security. Pets help seniors to feel that someone they trust is always around.
"Sponsor Me" — Adopt a Pet Program: 
Many seniors love animals, but because of physical limitations, they are unable to provide an animal a home.
With the "Sponsor Me" Adopt a Pet Program, a senior can choose the animal(s) they want to help by paying for their animal's medical treatments, medication, special food or other special care.
Each individual will be given a photograph of their 'pet' and are welcome to visit during shelter hours. Seniors can assist in socializing, feeding, training or simply by providing a warm lap for a loving animal. For more information on the "Seniors for Seniors" and "Sponsor Me" contact Massachusetts Humane Society, at 781-335-1300.