CATS – KITTENS – SENIOR CATS
If your looking to adopt a kitten (s), young cat (s), adult cat (s) and or a Senior Cat (s). To be part of you and or your family! Give us a call at 781-335-1300 – leave a message and or you can email us: masshumane@aol.com. We can also direct you to other animal shelters that have kittens and cats up for adoption. Thank You!

We Are Super Affectionate, Crave Attention, and Ready To Be Your Purrrrrrmanent Kitties !!
Currently in Blackstone, MA being Fostered.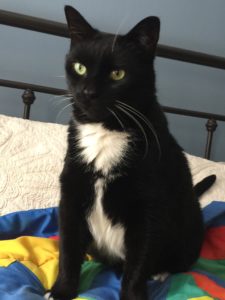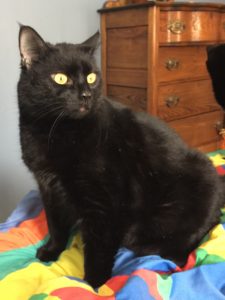 We Love Love Attention We Make Great Companions
We are Both FIV/Felv Negative We are Both Litter Box Trained
We are Both Up to Date on Vaccinations We are Both Spayed
We are Both Indoor Cats Only
Watch The Video Of The Girls:
Hello our names are Houdini and Laverne. I am Houdini the All Black Cat, and I am Laverne the Black and White Tuxedo Cat. We are both 8 years young and have lots of life left, and we are a bonded pair. We were given up because our former owner is having a baby and does not have the time for us girls any longer. We were also saved in the Nick of Time, because the plans were that we would be Put To Sleep.
We are both extremely friendly cats and don't hide. In fact, when our foster mom comes to play with us or feed us, we right to the door when she enters the room. Plus we both love to be brushed. We would do ok with adult kids and a dog that is friendly with cats.
Houdini's Blood work is normal and she is very healthy. Laverne on the other hand is on 2 units of insulin twice a day, but hopefully with weight loss, it can be lowered or she may be able to come off of it completely. She is healthy otherwise. Both cats need to lose weight and that is being worked on now.
If you are interested in making Houdini and Laverne part of you and your family and you want more detail. Please contact the foster mom directly, Teri at 508-735-0786 or email her: TeriW13@yahoo.com
UPDATE: 4-3-2018
Also in a recent update from the foster mom, Laverne has lost a half a pound and they have been able to reduce her insulin from 2 units twice a day to 1 unit twice a day. Once she loses a little more weight we should be able to get her off insulin altogether! Both Laverne and Houdini are quite happily interacting with the foster mom's dogs and cats. We suspect they will do well in a home with other pets as a result! Houdini also comes when called. She is very dog-like. J They are REALLY great super friendly cats!