CATS – KITTENS – SENIOR CATS
If your looking to adopt a kitten (s), young cat (s), adult cat (s) and or a Senior Cat (s). To be part of you and or your family! Give us a call at 781-335-1300 – leave a message and or you can email us: masshumane@aol.com. There is a pre-screening interview over the telephone and if you contact us by email we will call you. Please send your phone number, name, email, and what town you are located in. Thank You!

"SCORCH"
Black, 1 year, Neutered Male
Mass Humane Society – Foster Care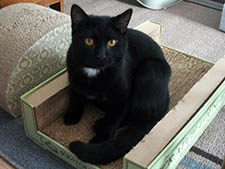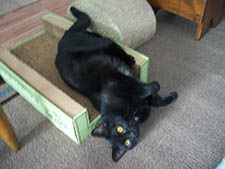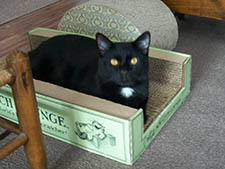 Hi my name is Scorch I am a one year old neutered male, with a touch of white on my paw, UTD on all my shots, tested negative and litter box trained very well. I have been complemented many times about my "Amber eyes", how stunning my eyes are, but I don't let that get to my head!. I am very playful, I love to play with toy mice and the laser, I love running all around. Just so you know I am a real gentle easy going lovable guy.
I may be a little shy at first, however don't let that stop you, I come out of that little shy shell real fast !! I will be ok with another young easy going male cat, but playful too. I came from a high kill shelter in Virginia, thank goodness I am out of there now and with MHS and looking for my kind loving home. I have never been outside, so indoors is for me. So please consider me to be part of you and or your family with a feline playmate. I really would love to have a male feline playmate – one year old or so – or even younger, we boys can play rough at times but we have fun! We can grow up together!
(Scorch is such a gentle loving playful cat. He would love to bond with you and be part of your family and a male feline playmate – so please consider Scorch!)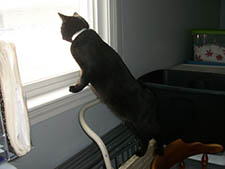 Scorch is in a foster care home right now, but ready to go!! If you want to meet & greet with me, contact MHS email us: masshumane@aol.com or call 781-335-1300. You can also fill out an adoption application questionnaire.