"CHANNING"
Black/Tan Coonhound Treeing Walker, 4 years, 83 lbs., Neutered Male
Mass Humane Society – Partnership & Courtesy Post for PAWS New England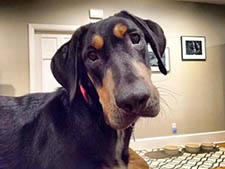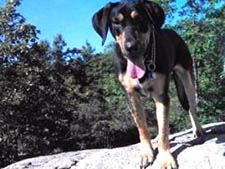 Fostering in New England!! Must have another friendly and confident dog in the home- no exceptions!!
Channing is a large 4 year neutered male Black/Tan Coonhound Treeing Walker about 83 pounds, up to date on all shots, heartworm negative on prevention, and micro chipped. He was one of seven dogs rescued from a neglectful property in Tennessee. They grew up in a bleak backyard with no socialization, veterinary care, or human companionship. When their owners grew weary of the seven dogs, they called animal control to come and get them one by one. When Paws New England learned about this family of hounds, we simply had to get involved. We rescued all seven. Five have found their forever homes. Channing was one of the last to be rescued from the property. He spent months in boarding before moving into a New England foster home.
Channing is blossoming in his foster home! His foster mom reports he's doing really well on his basic training. He's already mastered sit, go to bed and leave it. He continues to work on paw, down, come and watch me. He has learned to take treats gently and is completely house broken. Channing lives harmoniously live with his canine foster brother, Buddy, and 2 feline foster siblings!
He continues to work on his confidence building, but we have big hopes for this boy! New situations or dogs can still be a little scary for him, but he's getting better every day! Channing is loves going for walks or long hikes with his foster dad. He's happiest when he gets plenty of exercise and play time! His foster mom reports that he loves walking around with his favorite stuffed animal in his mouth and it's absolutely adorable!
Channing takes the lead from his friendly and confident foster brother, Buddy. We'd love to see him in a home with a friendly canine sibling to show him the ropes. In fact, this will be critical for Channing's overall long term growth. He will need a patient and loving family who can make a commitment to providing him with the exercise his needs and the time he deserves to adjust to a new home.
If you would like to be part of Channings fairy tale ending, we'd love to hear from you!
BASED ON OUR OBSERVATIONS:
Good with Dogs: Yes and would like to live with another medium-large dog
Good with Cats: Yes, fostering with 2 cats
Good with Kids: Unknown
Donation: $450.00
Dogs transported to New England are done so at a fee of $125.00 paid directly to the transporting company by Paws New England; no additional transport costs are responsibility of adopter. This fee is included in the adoption donation.
Visit the Paws New England website below for an adoption application and answers to your most Frequently Asked Questions: Paws New England
For more information about this particular dog, please email: PAWSNECoordinator@gmail.com
---
"COOPER ARRO"
American Bulldog mix, 8 years, 107 lbs., Neutered Male
Mass Humane Society – Partnership & Courtesy Post for PAWS New England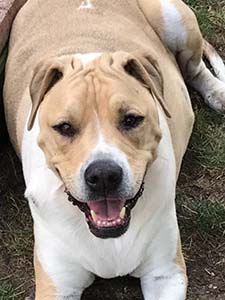 Cooper Arro is a neutered male, about 8 years old, American Bulldog mix, weights about 107 pounds, all shots up to date, Heart Worm negative and Microchipped. Yes ok with canines in household, old adult kids ok, not smaller kids.
Cooper Aroo is as sweet and gentle as they come. You won't find a more loving soul! He joins PAWS from our partner shelter in TN after being surrendered by his owners. We think this handsome boy deserved better than that and cannot wait to find him a special forever family that will cherish him. We do not know Cooper's past, but his body tells a not so pretty story. PAWS has been working with specialized vets to get him back on track. His improvement has been amazing thus far and he has become the favorite of everyone who has met him.
Cooper will not ask for much during his retirement years. A soft bed (or even better, a couch!!!), leisurely walks (he is great on a leash) and of course, ear and belly rubs, as needed. He also LOVES car rides, so anytime u want company for errands, he is your man!! In return, he will be your big ole gentle best friend, You will be entertained by his loud groans, the way he flops down anywhere and anytime he feels the need. He has an old man attitude with glimpses of ornery young behavior. And he does everything at his own pace (usually slowly).
Cooper does require medication, most of which will be lifelong, including allergy shots, hypothyroid pills, eye drops (for dry eye), a joint supplement and occasional medicated baths, but he is cooperative with everything. Cooper is definitely special. All is takes is just one look at you with his soulful eyes. You can see the appreciation that he has for everything that he is given and every loving touch that comes his way. This sweet boy is ready to be the love of your life!
Adoption Donation: $200
For more information about this particular dog, please email: dianegpawsne@aol.com