Bessy's FacebookPage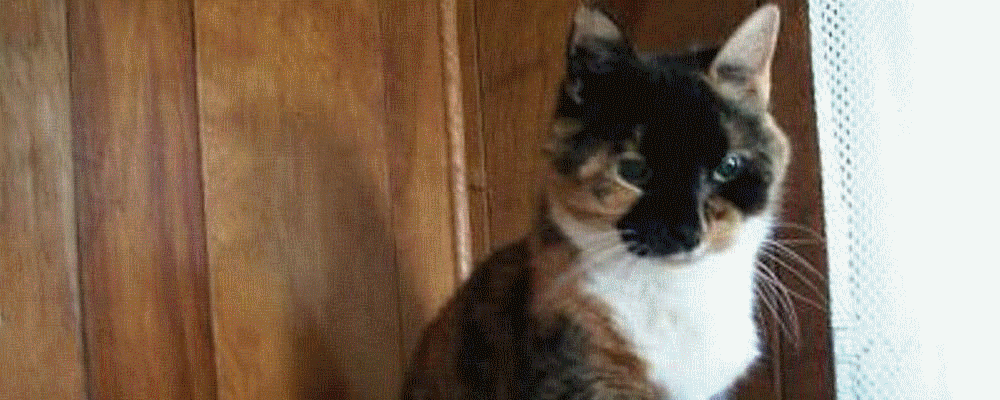 Bessy's Rescue Story
When I adopted Bessy in 1993, she was a homeless, unwanted, beautiful 1 1/2-year-old calico cat in a shelter. I can still picture her looking through her cage door with a "smile" on her face, starring at me. Right then and there "that was the cat for me."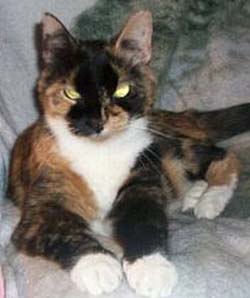 I later found out she had been adopted twice before but returned to the shelter. Let's say, she had some personality quirks that needed adjusting. Bessy needed bonding time and patience and I was happy to give her that, And Bessy NEVER went back to the shelter.
Bessy was my cat for 19 wonderful years. Throughout those years she became a diabetic, developed a thyroid problem, then got severe kidney failure and passed on in June of 2011.
In honor of my wonderful, loving pet, Bessy, I have created a sanctuary where all unwanted, homeless cats are wanted, loved and provided a warm, nurturing home. Bessy's Place is dedicated to those cats that are not as fortunate as my Bessy.
In Loving Memory & Honor of Bessy the Best!
Joanne G. Mainiero, Founder Bessy's Place
---
---
Mission & Statement:
Bessy's Place Cat Sanctuary is a sanctuary within Massachusetts Humane Society's shelter. Bessy's Place mission is to create a peaceful, comfortable environment where we can give older, medically compromised, or unadoptable cats the medical attention they require while allowing them to live out their lives with the love and dignity they deserve.
Animal shelters across the nation have become overwhelmed and overcrowded. Sadly, 78% of cats and kittens who enter shelters are euthanized. In the past few years there has been 65% increase in the number of abandoned adult cats. Although some of them are adopted, they are usually kittens or young, healthy cats. Older cats are left to die. MHS strongly feels that these older, medically compromised, or unadoptable cats should be given an equal chance at life.
Bessy's Place Cat Sanctuary offers them a permanent place to live out their lives. This costs money to keep all these unwanted cats comfortable, and cared for daily for the rest of there lives!
If you want to donate you can mail the donation to: Massachusetts Humane Society, P.O. Box 850177, Braintree, MA 02185-0177 or you can safely donate online with PAYPAL OR NETWORK FOR GOOD. We will send you a personalized Bessy's Place THANK YOU CARD!
Matching Gifts
Many employers offer to match their employee donations to non-profit organizations, sometimes two or three times the amount donated. Check with your HR department to maximize the impact of your gift.
Workplace Giving — CFC & COBECC & COMECC
If you are a federal, state or municipal employee, you may be able to donate through your employee giving program. We participate in the City of Boston Employees Charitable Campaign – Code #5170 (COBECC) and the Combined Federal Campaign – Code #70726 (CFC) and Commonwealth of Massachusetts Employees Charitable Campaign (COMECC). Please contact your employer for more information on these programs.
Tribute and Memorial Giving
When donors makes a gift in memory or in honor/dedication of a person, pet, or occasion under Bessy's Place Cat Sanctuary. We will notify an acknowledgment to the appropriate person with a personalized Bessy's Place Cat Sanctuary Card and list the persons name on our Tribute Peoples Page or Tribute Pets Page or In Dedication Page.
For more information on any of these giving plans, please contact Joanne: 781-335-1300 or jgm@bessysplace.org.
   Contact Us
Bessy's Place Cat Sanctuary
(Affiliated Within Massachusetts Humane Society)
Bessy's Place Facebook
© 2014 – 2018 – All Rights Reserved